The International Chair on "Violence against women and girls in conflicts" (abbreviated to "Mukwege Chair") is the result of an initiative launched by Professor Emeritus (ULiège) Véronique De Keyser, Honorary European Deputy, following first contacts in November 2013 between Dr Denis Mukwege and the psychologists of the Faculty of Psychology, Speech and Language Therapy and Educational Sciences (FPLSE) and the doctors of the University Hospital of Liège (CHU), in order to set up cooperation programmes for the follow-up of survivors of sexual violence.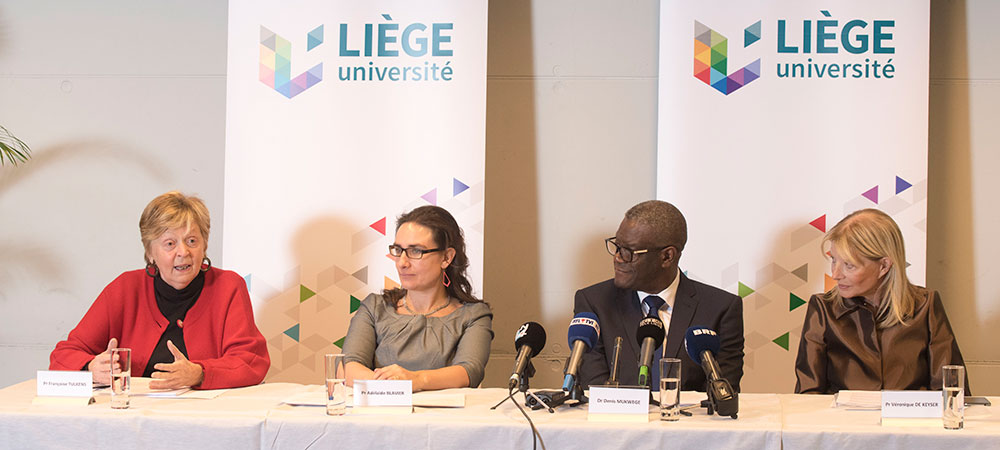 The Mukwege Chair aims to develop interdisciplinary research in the field of sexual violence against women and to bring together the knowledge on this issue from different partners and universities in Belgium and around the world.
"The more I progress in life, the more I realize that there is a problem of violence against women that, alone, I cannot solve. There are so many unanswered questions in the medical, psychological, legal, historical, socio-economic and historical fields," explains Dr. Denis Mukwege
The Mukwege Chair is attached to the Centre d'Expertise en Psychotraumatisme et Psychologie légale, directed by Pr Adélaïde Blavier at ULiège and with whom a close collaboration between the team of psychologists at Panzi hospital and the non-profit association Les Enfants de Panzi et d'Ailleurs has been established with the Liège CHU's support The objective is to create an international research network on the theme of sexual violence against women in conflict situations. With this in mind, the Chair has opened up to various universities that have already welcomed Dr. Denis Mukwege, including those that have awarded him Docteur honoris causa.
The strength of the Mukwege Chair is that it aims to promote transversal and interdisciplinary research, and in so doing, to better understand both the prevention and follow-up of women victims of sexual violence..
The day after the presentation of the insignia of Doctor honoris causa to Doctor Mukwege by ULiège, the Mukwege Chair was inaugurated on September 21, 2018. On this occasion, a day of discussions was organised in the presence of some of the partner universities (UCL, ULB, University of Angers – France). More than 500 people were present for this day, including many young people from secondary schools of Liège.
A week later, on October 5, 2018, the Nobel Peace Prize was awarded to Denis Mukwege and Nadia Murad for their fight against sexual violence.
An international congress of the Mukwege Chair will be held each year at one of the partner universities. The first congress will be held at the University of Liège, from 13 to 15th of November 2019.